Next Event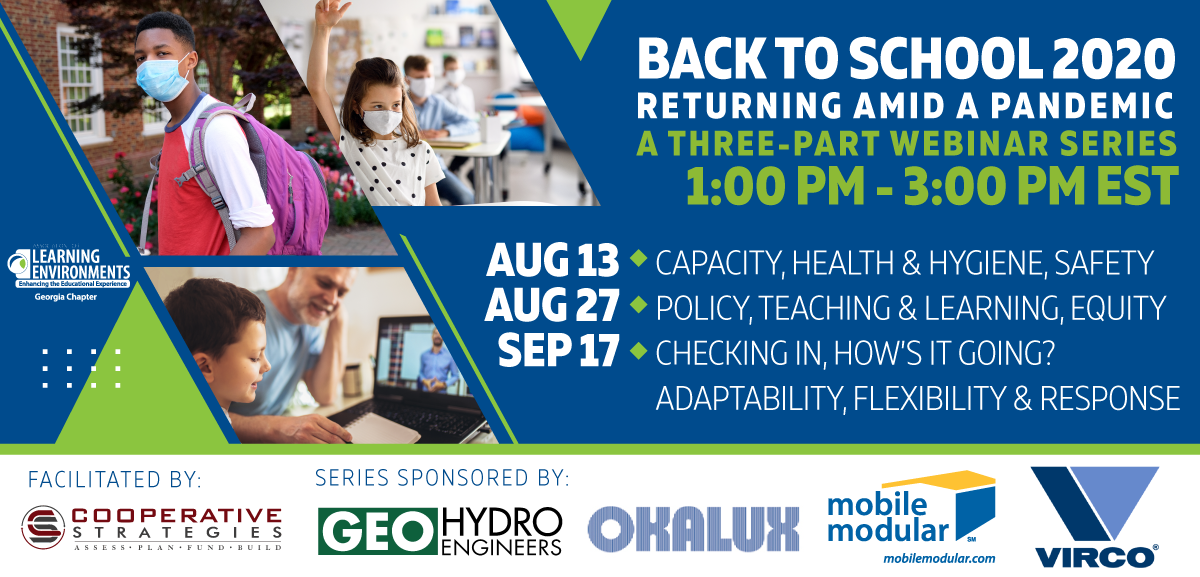 Back to School 2020: Returning Amid a Pandemic
Thank you for the inquiries and feedback! We've heard a number of you were interested in participating, but didn't have enough time to secure approvals, we're already booked with back-to-school activities, have existing project commitments, and a variety of other things keep you from attending.
DATES:
Session One will be postponed to August! To allow more time for approvals, working in to your schedules, etc, the dates will now be: August 13, August 27, and September 17.
If you're already registered, tomorrow's webinar will continue as planned for only ONE hour and function as a pre-conference where you will interact collaboratively with the other participants for a roundtable discussion of the issues you're facing, the questions you need answered, any solutions you've developed, and anything else top-of-mind currently.
COST:
FREE for school personnel. We understand the districts are stretched for time, staff, resources, and as always budget, but even more so given the current circumstances.  This is an important conversation for everyone to participate in, but definitely for the districts. Therefore the series will be FREE for school system participants. The pricing structure remains for industry professionals and business partners.
SPONSORSHIP:
New rates. We understand. It's a tough environment for everyone right now. You have to make do with so much less and we're all feeling the pinch. The new sponsorship rates are $400/webinar or $1,000 for the series. The benefits are untouched to provide significantly more value for the investment.
Thank you again for taking the time to provide feedback in the short time we had and we hope these adjustments to the schedule and pricing are the changes you needed to be able to participate.
---
Join GA4LE for a 3-part webinar series exploring methodologies, action plans, and policies to safely and effectively reopen schools with the safety of students and staff at the center of the effort. The focus is working towards reopening, let's share our strategies, thoughts, and approaches among peers.
Presented by David Sturtz of Cooperative Strategies, we will address the integral topics of capacity, health & hygiene, policy, teaching & learning, equity, and more.
Not your ordinary webinar, this will be an interactive experience with small breakout work groups, Q&A, and peer networking. These sessions are designed to provide information, resources, and direction for those hard questions that are keeping you up at night as you're contemplating, planning, and preparing for schools to reopen.
The last session will provide an actionable document to work from and reference as you move forward. You will also receive a matrix of the varied strategies used state-wide, based on district type and threat level.
The plans we are creating now will not and should not last throughout the school year. We must adapt and remain nimble to pivot and adjust our strategies as the situation continues to unfold and change.
SPONSORSHIPS
$400 / webinar
$1,000 / series of 3
SPONSORSHIP BENEFITS
10 registrations per webinar sponsored
logo on all marketing materials
opportunity to address the audience for 1 minute during intro of session
one slide included in the presentation deck
sponsor contact information included in package of take away information
attendee list
social media promotion
THANK YOU TO OUR SERIES SPONSORS